De markt voor wereldwijde incidenten en noodsituatie beheer, beïnvloed door een stijging van economische verliezen als gevolg van natuurrampen, een toename van het aantal terroristische aanslagen en de uitvoering van overheidsmandaten om dergelijke situaties te verzachten, verwacht een groei van $107 miljard (USD) in 2019 tot $148,5 miljard (USD) in 2024.1
Hoe reageert u als de plicht roept?
Dankzij het partnerschap tussen Bar Code Direct en Soti, kunnen ziekenhuizen tijdens COVID-19 essentiële voorraden distribueren met behulp van SOTI MobiControl. Toen eerstelijns ziekenhuispersoneel verbindingsproblemen ondervond op de mobiele apparaten die gebruikt werden om persoonlijke beschermingsmiddelen (PBM's) en medicatie te verdelen, zorgde SOTI voor deskundige ondersteuning om die problemen onmiddellijk van op afstand op te lossen. Tijdens deze wereldwijde pandemie is de expertise van SOTI van onschatbare waarde geweest om ziekenhuizen te helpen frontliniewerkers te blijven ondersteunen. Als downtime geen optie is, kiezen we voor SOTI MobiControl.
— Rick O'Bryan, Account Executive bij Bar Code Direct, Inc.
Burgers betrekken met de juiste technologie binnen handbereik
Met nieuwe uitdagingen, ongekende verstoringen en crisissituaties waarmee hulpdiensten worden geconfronteerd, worden er elke dag talloze eisen gesteld aan de werknemers in het veld. Als er levens op het spel staan, is er geen seconde te verliezen. De invoering van mobiele technologie kan de juiste hulpmiddelen en ondersteuning bieden die nodig zijn om burgers in nood een consistente kwaliteitszorg en -dienstverlening te bieden.
Dankzij de vooruitgang op het gebied van mobiele apparatuur en een brede toepassing van het IoT kunnen hulpdiensten apparatuur inzetten om hun gedistribueerde veldwerkers doeltreffend te beheren, veilig laten communiceren en gegevens laten verzamelen, dossiers bij te werken en levens te redden.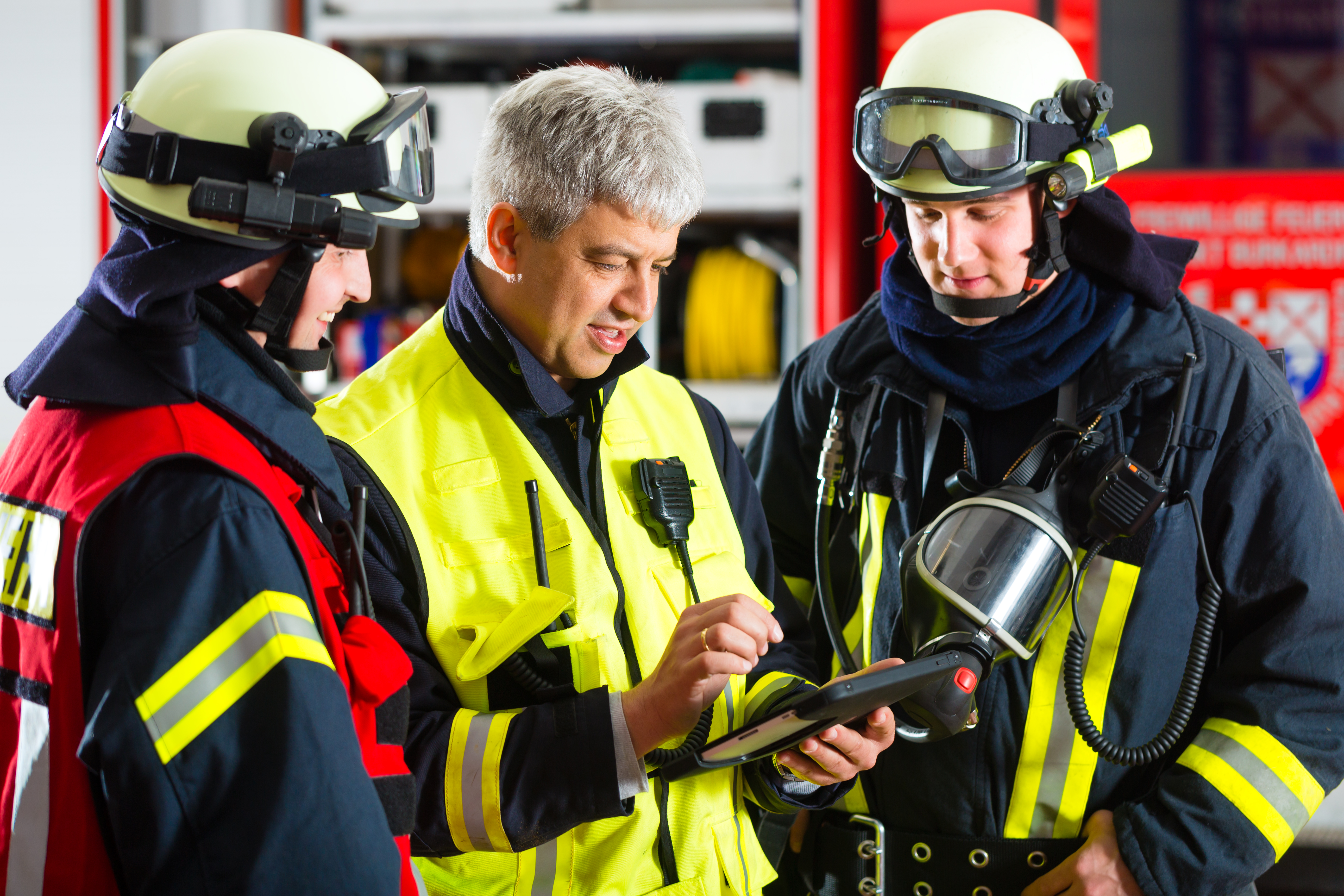 Mobiele technologie betekent meer dan alleen nieuwe hulpmiddelen in uw arsenaal. In combinatie met een geïntegreerde bedrijfskritische mobiliteitsstrategie kan mobiele technologie uw organisatie in staat stellen prestatieverbeteringen te realiseren, de productiviteit van werknemers te verhogen, de tevredenheid van de gemeenschap te verbeteren en, het allerbelangrijkste, ervoor zorgen dat uw werknemers veilig en verbonden zijn in tijden van crisis.
Leiders in de noodhulpsector die tijd investeren in de ontwikkeling van een alomvattende mobiele strategie, ondersteund door het juiste geïntegreerde platform van managementoplossingen, kunnen hun organisatie tijd en geld besparen en zelfs levens redden.
Waarom uw mobiele strategie beheren met het SOTI ONE-platform?
Beveiliging

Vergrendel uw beheerde apparaten altijd en overal, om de beveiliging en compliance te handhaven en gevoelige gegevens te beschermen.

Integratie

Het SOTI ONE Platform beveiligt en beheert alle mobiele/IoT-apparaten, besturingssystemen en gebruiksvormen (BYOD, COBO, COPE).

Gepersonaliseerd

SOTI werkt met u samen om een end-to-end beheer te ontwikkelen en te implementeren voor al uw essentiële mobiliteitsvereisten.

Inzet

Maak gebruik van de uitgebreide uitrolmogelijkheden van SOTI MobiControl om apparaten, content en apps snel in te zetten.

Werknemers en apparaten volgen

Werknemers en apparaten zijn onderweg. Zicht op de locatie en status hiervan helpt de operaties te verbeteren.
Resources
Discover how SOTI ONE Platform can benefit emergency services to perform more efficiently, respond faster and deliver consistent quality service.
Blogs, Articles and Reports
Spreek met een bedrijfskritische mobiliteitsexpert
The SOTI ONE Platform reduces the cost, complexity and downtime of the world's top emergency services organizations worldwide.