Enterprise Mobility Management voor elk apparaat, elk eindpunt en elke bedrijfsbehoefte
SOTI MobiControl is de EMM-oplossing (Enterprise Mobility Management) die is ontworpen om de grootste uitdagingen op het gebied van mobiele technologie aan te gaan, ongeacht de apparaattypes en besturingssystemen (OS) die uw bedrijf gebruikt. De bekroonde EMM-software beveiligt en beheert rugged devices, smartphones, tablets, wearables, handhelds, in voertuigen gemonteerde computers, enz. Zorg ervoor dat gegevens veilig blijven, apparaten blijven werken en uw externe medewerkers productief blijven.
EMM voor alle besturingssystemen
Op welk OS uw mobiele apparaten, laptops of tablets ook werken, SOTI MobiControl houdt u beschermd.
SOTI MobiControl lost uw zwaarste mobiliteitsuitdagingen op
Het is uw taak om de mobiele risico's waar uw bedrijf mee geconfronteerd wordt te overwinnen:
Ongeplande uitval die bedrijfsprocessen tot stilstand brengt
Veiligheidsrisico's die kunnen leiden tot gestolen of gecompromitteerde gegevens
Omslachtige procedures voor het installeren, registreren en ter beschikking stellen van apparaten
Enterprise Mobility Management van SOTI MobiControl geeft u volledig inzicht in de status en prestaties van uw apparaatinstallaties.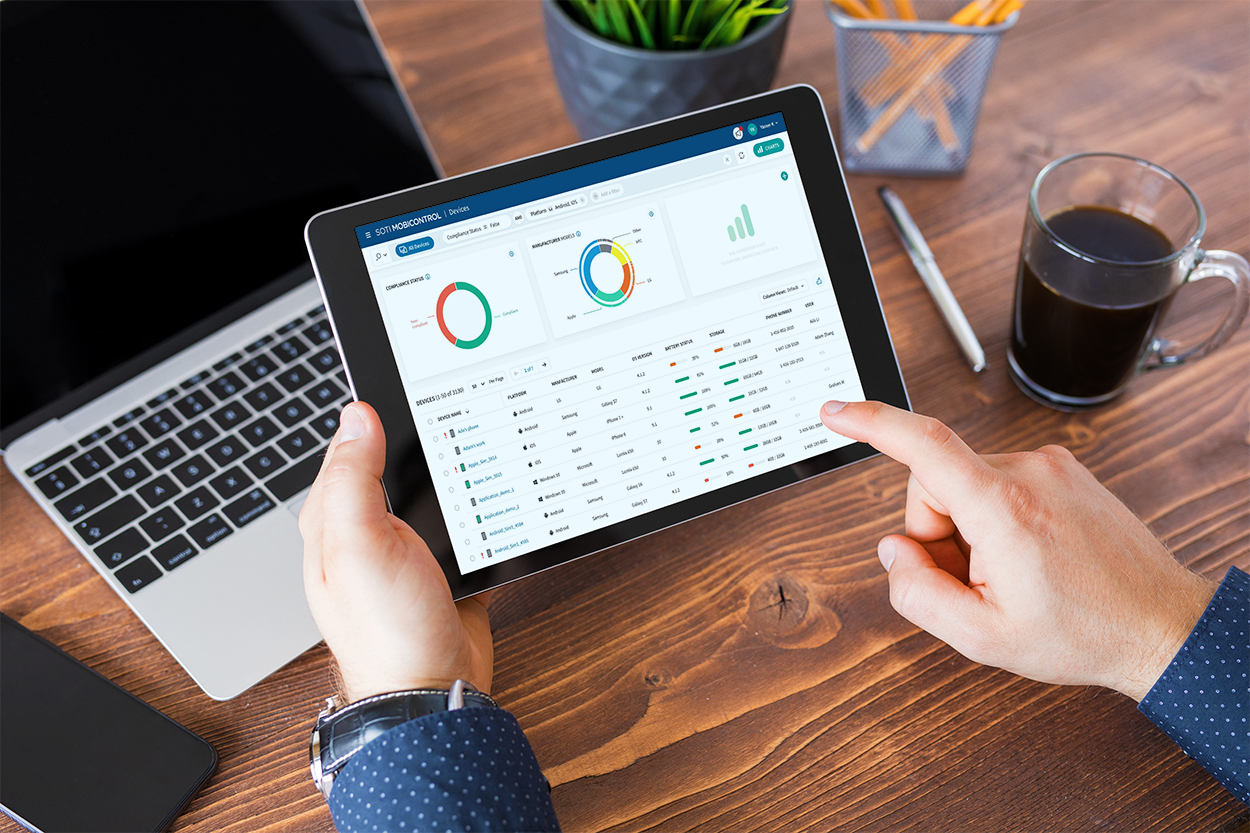 U zult kleine problemen kunnen oplossen voordat ze grote problemen worden. U zult in staat zijn om proactief beslissingen te nemen om de prestaties van het apparaat te verbeteren op basis van eenvoudige zaken als netwerktoegang. U kunt snel de bedrijfskritische apps inzetten waar uw externe medewerkers op rekenen om de klus te klaren.
Andere functies van SOTI MobiControl
Mobile Application Management (MAM)

SOTI MobiControl integreert met Apple VPP en Google Play om ervoor te zorgen dat de juiste apps op het juiste moment bij de juiste medewerkers terechtkomen.

Mobile Content Management (MCM)

Controleer wie bepaalde websites en bestanden kan bekijken en of ze kunnen bewerken, delen, downloaden of andere acties kunnen uitvoeren.

Mobile Identity Management (MIM)

Met gebruikersmachtigingen kunt u bepalen welke divisies in uw bedrijf rechten hebben (lezen, lezen/schrijven) voor gebruikers, aangepaste data en attributen.
Het SOTI ONE Platform
Het SOTI ONE Platform is een geïntegreerd pakket van oplossingen dat is ontworpen om de kosten, complexiteit en uitvaltijd wat betreft bedrijfskritische mobiliteit te verminderen. Door de integratie met SOTI MobiControl kunt u met het SOTI ONE Platform:
mogelijkheden voor ondersteuning op afstand toevoegen aan uw aangepaste apps die met SOTI Snap zijn gemaakt
een integratie met SOTI Assist tot stand brengen om ondersteuning op afstand toe te voegen
data exporteren naar SOTI Insight voor verdere analyse en opslag op lange termijn
diagnostische helpdesk-tickets over uw IoT-apparaten maken en bekijken direct in SOTI Connect
communiceren met een gemeenschap van productexperts, partners en klanten via SOTI Central om antwoorden te krijgen op al uw SOTI productvragen.